Success Stories
Below are just a few of the successes our members have had.
Stories 41 to 60 of 570
---

Dolly spent 2 weeks with Sally and Jeff. They kept us informed by text whilst we were away which eased our minds as we've not left her before. On our return, it was obvious Dolly had felt completely at home and had been well looked after. It was also clear that Sally and Jeff had enjoyed having her. Thank you Dog Walking Now, Sally and Jeff and Holidays4Dogs.
---

Through Dog Walking Now we met Linda. Marley was so well looked after and cared for which was a big relief for us. Linda also kept in touch with us with regular messages and photos which we found comforting and greatly received showing that Marley was safe, well and also enjoying his holiday. Can't recommend and thank you enough!
---

Thanks to Dog Walking Now I am looking after, for 2 weeks the beautiful and lively 19 month old Cocker spaniel Becky. She goes home happy and tired. We go on 2 walks and play ball her favourite game. My son loves her too.
---

I walk off lead an amazing 4 year old spinone. We walk through fields, in streams and through woods. I love my job the dogs and I both get fresh air and exercise. It's a win win. Both come back from our walk happy and tired. Thanks Dog Walking Now for helping this to happen.
---

Julian
M G Dogs Club help out at the last minute.

When out dog walker dropped out at the last minute we needed someone urgently to walk my sister's cocker spaniel, Jessie, for a week while the family was on holiday.

After I put out an appeal on dogwalkingnow we were delighted when Iwana & Mariusz of 'M G Dogs Club' got in touch with just a couple of days to go. They offered to help at very reasonable price.

They organized everything very efficiently and we were very happy with the way they walked Jessie over the week. They were always very prompt and Jessie came home each day tired but happy.

You couldn't ask more.

Julian Winter
---

Thanks to Dog Walking Now I had a lovely consultation with Bridget and got to know lots about Alfie before we went on a walk.

Alfie (a Lab) is a delight to work with, we practiced recall, had controlled off lead play and cool down walk.

I'm so excited to continue working with Alfie and the progression our new found bond.
---

Power Paws are amazing and they will take great care of your dog. Completely trustworthy and reliable. My dog was looked after as though she was part of the family when she stayed over for a long weekend. Highly recommended, thanks DogWalkingNow for getting us in touch!

Michelle King, Jess's Owner
---

Claire
Hi
Thanks to Dog Walking Now we have met with Bill Stainton ie Bill the Canine Companion and we are very happy to use him as a dog walker. Our dog clearly adores him as he is a really nice man.
---

Sarah
Becky started walking the boys in November, the boys love there daily walk and look forward to Beckys arrival each day! Becky does a great job with love, care and the challenge of our biggest boy Ted certainly doesn't phase her. Great job and would certainly recommend her, thanks DogWalkingNow!
---

Sarah
We found Fi (Roo) on dog walking now nearly 2 years ago, Fi not only walked our doggies with great loving care and attention but has since become a lovely family friend, Fi made sure they had great fun on their walks out with special love (and treats!). Since then we unfortunately had to move and find a new carer, we still enjoy a catch up and the boys always remember the love she gave!
---

Thanks to Dog Walking Now I have had a fun time out for the first time with Roly, big bounding dog, who had a nice leisurely swim in the pond and raced around in circles in the field with Lotta, our labrador.
---

Lesley
We have had a long chat with Gail and she understands completely how a rescued retriever might feel! She has loads of experience and I think they will become firm friends. Thanks to Dog Walking Now for helping us get together.
---

Thanks to Dog Walking Now, twice a week I get walk through the Cotswolds with Wills. We enjoy the views together and look to cover more and more fields each week!
Please check out my gallery for some pictures of my travels with my dog family!
Hounds Dog walking
---

I can not really put into words how great my first walk was with the big fella and his Spaniel brother!! Such happy life loving dogs. Great way to spend a part of my day. Looking forward to daily walks wit these guys. Thanks DogWalkingNow for connecting us! :)
---

What a treat to have such a gorgeous dog come and stay with me. It was a complete pleasure to have Jake this weekend.
Such a beautiful dog. Lots of cuddles and fun out walking.
Thank you DogWalkingNow
---

Lovely to meet Lola and Dudley
They will be joining me for walks and cuddles on Thursday and Fridays whilst their dads are working long hours.

Thanks DogWalkingNow
---

Allison
Through Dog Walking Now I was lucky enough to meet Green Wellies Gareth - dogminding and walking in Anglesey -cannot recommend him enough! Experienced with assistance dogs he looked after our two hounds for two separate days while we were on holiday so that we could "do" the castles. Very knowledgeable and thorough as well as caring.
---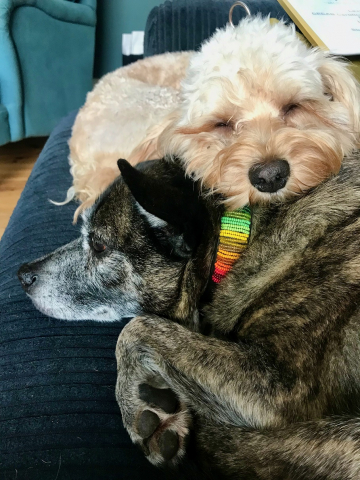 Since being on dogwalkingnow, I have had many doggy clients. I continue to grow my business of making dogs in SE London happy while their owners are at work. Would highly recommend this website for both dog-walkers and owners. WOOF WOOF!
---

Marika
I am delighted to have found Katy Adams through Dog Walking Now. She did look after my dog twice this summer for few days each time and she did a great job. My dog love her! Katy is a really caring person, responsible and reliable. She took care of my dog as was her own.
I am glad I could enjoy my holidays knowing that my dog was in safe hands. She also knows dogs very well so she knows what to do in different situations. She is still walking my dog regularly.
---

Since being on Dog Walking Now from October 2015 I have provided some Doggy Day Care for Bertie, a young Chocolate Lab & Amy, an 8 year old Golden Retriever, I have visited Stanley (Cocker Spaniel) & Bob (Shih Tzu) daily in their own home for a week & have had a sweet little Westie called Betsy to stay for the week.
---