www.DogWalkingNow.co.uk/the-day-den
---
Dog Walker/ Sitter Directory - View Members Profile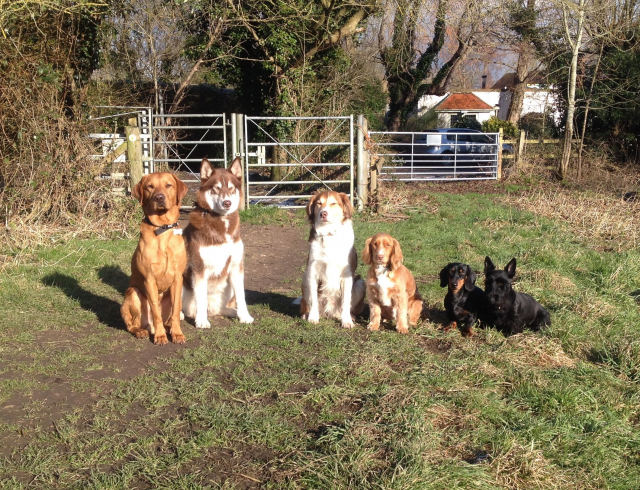 The Day Den
Dog Walker, Dog Daycare
---
Summary
Availability: Mon-Fri. Weekend by arrangement.
Rates: See below
References: Yes
Insurance: Yes
---
Services Offered
Dog Walking
- Walk dog(s) as a group
Dog Daycare
---
About Me/ Company
DAY CARE AND DOG WALKING SERVICES AVAILABLE IN BOURNE END, SOUTH BUCKS AND SURROUNDING AREAS. DAY CARE DOGS HAVE COMPANY ALL DAY IN OUR HOME WITH NO KENNELLING. WALKS ARE ALONG THE RIVER OR IN OPEN COUNTRYSIDE.

The business is now well established and we look after some wonderful dogs in addition to helping others with behaviour problems. Through my own rescue dog's rehabilitaion I developed a real interest in dog behaviour and behaviour management and through continued learning and expanding knowledge I aim to provide the best service possible to local dogs and their owners.

All day care dogs will be with me or my wife throughout the day in our home, out on walks or in the village, and none will be kennelled.
---
Qualifications & Training
* Diploma in Canine Behaviour and Training

* Advanced diploma in Canine Behaviour Management (A.DipCBM)

I have completed various courses and seminars run by a number of professional institutions and organisations in dog training, behaviour and behaviour management.

I hold a certificate in canine first aid.
---
Relevant Info
Rates:

Day care: £20 per dog. £15 for 2nd dog from the same home. Includes 2 walks
Walking only: £10 per dog. Minimum of 1 hour
Day care and Overnight: £30 per dog
Overnight only: £15 per dog
Holiday boarding by arrangement

(The above pricing does not include meals. Meals can be provided if required at a cost of £3 per day per dog. Meals are dry feed, Symply, Canagan or Skinners Field and Trial. Alternatives can be provided by arrangement.)

Visit www.thedayden.com or e-mail info@thedayden.com