View Job
---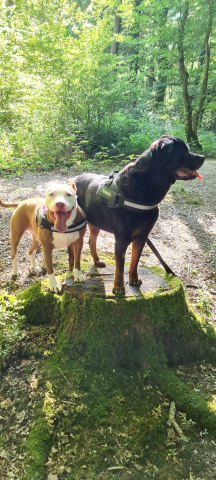 Dog Walker Wanted Surrey
No. of Applicants:
0 - Be the FIRST TO APPLY!


Pay:

£ Negotiable


Applications Close:

31st August 2022
---
Job Specifics
Posted On:
16th July 2022


Location:

Lingfield, Surrey


Job Starts:

06 September 2022


Duration:

14 days


Employer:

Sheridan
---
About the Dog(s)
Dog(s) Name:
Knuckles and Pebbles


Breed:

Rottweiler and American bulldog cross


Size:

Large


Temper:

Good temperaments but do not get along with other dogs.
---
Requirements
Dog Walker
- Want dog(s) to be walked alone
---
Details:
We are going on holiday in September and need someone to walk our dogs daily for 40 minutes each time.
Would like for the walker to have a vehicle to take the dogs to the parks.
Also, someone who is comfortable walking large dogs.
They are very friendly and happy dogs.
We would like for them to be walked with their leads on.
We would also like for the dog walker to walk them a few days in August so our dogs are comfortable with the walker before we go.
---
Apply Now
You're not logged in!
Login above or register below to see full details of this Job
Register Now for Free
---