View Job
---
JOB CLOSED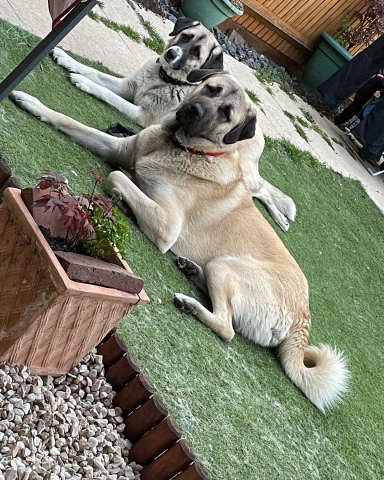 Dog Walker Sitter Daycare Wanted Surrey
No. of Applicants:
0 - Be the FIRST TO APPLY!


Pay:

£ Negotiable


Applications Close:

30th June 2022
---
Job Specifics
Posted On:
28th May 2022


Location:

Addlestone, Surrey


Job Starts:

23/07/22


Duration:

1 week & possibly on


Employer:

Penny
---
About the Dog(s)
Dog(s) Name:
Alfie & Mayla


Breed:

Turkish Kangal & Anatolian Shepherd


Size:

Giant/large


Temper:

Love people, can be dog/squirrel/rabbit reactive
---
Requirements
Dog Walker
- Want dog(s) to be walked alone
Dog Sitter
- Overnight stays required at Sitters house
- Holiday sitting required at Sitters house
Dog Daycare
---
Details:
I have 2 large breed rescue dogs who were rescued street dogs & then in kennels for months and were traumatised by them before we got them. They love people.
Alfie is a 52kg 1 year old (currently entire until he's a bit older)Turkish Kangal who is a massive goofball, loves everyone but totally unaware of his size, gets over excited, really strong and lunges. He has very poor recall -work in progress! So kept on lead. Mayla is a 45kg Anatolian Shepherd abuse case so was initially very timid. She's been attacked 3 times by off lead dogs so can bark and lunge at some dogs. She has a high prey drive and if scared runs for the hills so kept on a lead. I only let them off when I book the solo dog secure field. We have a 1 week holiday booked this July that's been postponed for the last 3 years due to being paramedics & having a daughter training to be an equine vet nurse! We finally got dates off & confirmed but I'm now stressing trying to find somewhere for my pups to stay which has been impossible to find. My next other option is my elderly mum stays at our house in Addlestone and I arrange doggy day care in a large secure garden with pick up and drop off. Or someone to come over twice a day for walks, or 1 long walk but either way it would have to be a couple with reactive dog experience or solo use of a dog secure field! Is this something you could help me with? Before & after the holiday we will most likely look at few days a week, mainly winter & days we're all working.
---
Apply Now
You're not logged in!
Login above or register below to see full details of this Job
Register Now for Free
---