www.DogWalkingNow.co.uk/happy-pets-4
---
Dog Walker/ Sitter Directory - View Members Profile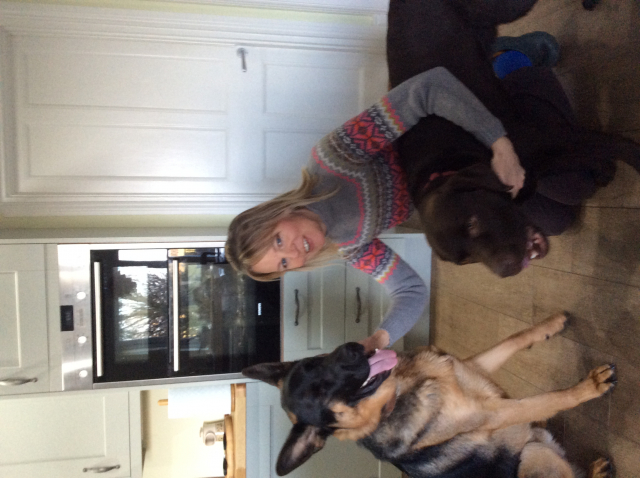 Happy Pets
Dog Walker, Dog Sitter, Dog Daycare
---
Summary
Availability: every day
Rates: From £12 per hour
References: Yes
Insurance: Yes
---
Services Offered
Dog Walking
- Walk owners dog(s) alone
- Walk dog(s) as a group
Dog Sitting
- Overnight At Sitters House
- Holiday Sitting At Sitters House
Dog Daycare
---
About Me/ Company
Hello, my name is Ailsa Hunter and I am an ex-college lecturer who loves working in the outdoors walking dogs. I have a chocolate Labrador called Rufus and a variety of tropical fish. It has always been my ambition to have a job working with animals which is why I decided to start up my own business, dog walking and looking after all types of pets.I understand the special relationship an owner has with their pet therefore I treat each pet that I look after as I would my own. I have been running my business since September 2011 and I live in Boulmer in Northumberland which is 2 minutes walk from the beach and I also have a decent size back garden for dogs to run around in which is completely secure.
So if you want to feel safe and secure knowing that your pet is loved and looked after while you are on holiday or at work call me now- Ailsa Hunter on 07811 682474
---
Previous Experience
I have always had and looked after pets for the last 40 years
including dogs,cats, guinea pigs and tropical fish.
Animals are my passion and I love being out in the fresh air walking dogs!
I have looked after a variety of dogs including Labradors, Retrievers,Spaniels,Collies,Border terriers,West Highland Terriers, German Shepherds, Beagles, Greyhounds,Whippets, Lurchers, Patterdale Terriers, Bichon Frisse, Tibetan Terrier, Weimeraners.Labradoodle, Fox Terrier and a Dalmatian.
Golden Retriever called Hats has been to stay for various holidays over the last 4 years.
Lovely Cocker Spaniel called Tosca been to stay.
Jess Greyhound/Lurcher cross spent Xmas and summer holidays with us.
I looked after Zeb a Jack Russell Terrier for the day.
2 beagles called Ruby and Lola have been to stay on consecutive weekends, they were both great fun!
Ruby the beagle has stayed on a regular basis for long weekends.
Bill and Ben, both westies have stayed on a regular basis.
Betty the Tibetan Terrier has been to stay for a few days and has booked in for her holidays on 2 years consecutively.
I have walked Jack, a Parsons Jack Russell Terrier and Woody a Field Cocker Spaniel on 2 separate occasions while their owner was on a weeks holiday they are both lovely dogs.
Tonto, a gorgeous Cocker Spaniel Puppy has been to stay for the weekend.
Alfie, a Pomeranian/ Bichon Frise cross spent his summer holidays with us.
Harry the beagle stayed for 12 nights while his owners were on holiday.
Jasper a Patterdale terrier cross has stayed for long weekends on a regular basis.
I regularly walk Boba, a chihuahua and a lab/munsterlander called Georgie 2 to 4 times a week.They also stay for long weekends and annual holidays.
Ruby the chocolate cocker spaniel has stayed for weekends and holidays on a regular basis.
I have looked after Bo and Tippi, 2 bearded collies over long weekends.
Bear the bichon frise has been to stay overnight on 2 occasions to date.
I have walked Molly the Labrador and Daisy the King Charles Spaniel who are a delight to walk.
Recently had Shadow ( Flat Coat Retriever) and Poppy ( Lab/Collie cross) to stay for the day while their owners were up on holiday visiting Alnwick Castle and Gardens.
Billy a border terrier has stayed for short breaks and longer holidays on a few occasions.
Milo the border terrier often stays for daycare.
I walked a lovely American Bulldog called Stella for 4 days from her own house on a couple of occasions.
Freddie a gorgeous patterdale Terrier has been to stay overnight and for his holidays on a regular basis.
Alfie, who is a lovely lab/spaniel cross stays for annual holidays, day care and overnight stays.
I have walked Henry a super Springer Spaniel on a regular basis.
I have looked after Alfie a Jack Russell and Charlie a Lab for daycare and overnight while their owner was at work.
Barney the Golden Retrieiver has been to stay for his summer holidays and for daycare.
Barney the Labradoodle stayed overnight while his owners were at an event at Alnwick Castle.
Baxter a Nova Scotia Retriever stayed for daycare on a regular basis.
Bo the Border Collie has been to stay for a short break while their owners were away.
I sometimes walk Brodie the Wire Haired Dachshund and Dylan a cross breed if their owner is out for longer periods.
I walk Ellie, a lovely Weimaraner, and she stays for her annual holiday.
Horace, a flat coat retriever and Sika the cocker spaniel stay on a regular basis for daycare and overnight stays.
Jess and Drizzle the cocker spaniels stay on an annual basis for their holidays.
I walk Max, a lovely Labrador cross every week and he stays on a regular basis for his holidays.
I walked Monty the lab on a regular basis while his owners were at work and he also stayed for daycare .
Moyo the Lab/Spaniel cross stays for 3 weeks every January while his owners are on holiday and has walks once a week.
Ramsey the lab stays for daycare and overnight stays and annual holidays.
Riley the flat coat retriever stayed for his summer holiday.
Ruby, Reiva , 2 Borders and a Cocker Spaniel Grace ,stayed for their holidays in September.
Tilly and Ivy the Sprocker Spaniels attended daycare 3 times a week.
Holly the lovely Labrador has stayed for short breaks and I walk her twice a week while her owner is at work.

I offer the following services at competitive prices .

Dog Walking
Dog Home Boarding
Dog Day Care
Cat Sitting
Small Animal Care
Enhanced DBS Disclosure and Fully Insured
---
Qualifications & Training
Educated to degree standard

I used to teach a range of learners from 14yrs old up to adults at an FE college for 13 years so I have been fully DBS checked.

A lifetime experience of walking and looking after dogs.
Fully insured and licensed by Northumberland County Council.

Honest, Reliable and Trustworthy plus a love for all animals what ever shape or size!

Walking dogs for free for the love and exercise in my teenage years!
---
Relevant Info
Usual Rates
Dog Walking £12 per Hour (£6 per additional dog)
Dog Walking £6 per 30 mins (£3 per additional dog)
Dog Boarding £22 per day inc overnight stay (£12 per additional dog)
Dog Daycare- £17 per day ( £8 per additional dog)
Cat Sitting £6 per Visit ( £3 per additional cat)
Small Animal Visit £6.00 per visit ( £3 per additional cage or Tank)
Fuel Charge- 40p per Mile if outside Boulmer
I offer a free first initial meeting to discuss your individual requirements in relation to exercise, feeding, choice of venue for walks for your best friend.
This will enable me to give your pet the best experience possible so you can relax while you are on holiday or focus without worry while you are at work.
---
Other Services
I also offer Dog Boarding where your pet can come and stay in my house with my Labrador where they will enjoy the comfort and security of home surroundings.
Your dog can be exercised and sleep by itself if preferred.
I also offer Cat Sitting and Small Animal Care where pets are looked after in their own homes.
Cat Sitting
I looked after Daisy the cat from Seahouses for 6 days while her owners were on holiday.
I looked after 2 cats called Charlie and Rosie from Seahouses on 2 separate occasions while their owners were away on holiday for 3 weeks in America.
I looked after 2 cats called Owen and Smokey from Howick while their owner was on holiday for 3 weeks in New Zealand.
I look after Toddy the cat from Alnwick while his owner is away on business on a regular basis.
I looked after Domino the cat from Warkworth for 3 days over the Xmas holidays while her owners were down in London.
I have just looked after 2 lovely cats called Charlie and Honey for 10 days while their owners were away on a skiing holiday.
I recently looked after 4 cats while their owners were away for 10 days on holiday.
I look after Pottsy the African Grey Parrott on a regular basis when his owner is away.
I have recently looked after Sam the cat from Bamburgh over the new year holiday period.
I regularly look after Giorgio and Fiori, 2 lovely black and white fluffy cats.