Our Clients...
Below are just a few happy clients who've used this site:
Goosebarn
www.DogWalkingNow.co.uk/goosebarn
---
Dog Walker/ Sitter Directory - View Members Profile
---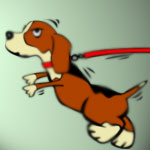 Dog Walker, Dog Sitter, Dog Daycare
Availability: contact us for information
Rates: variable
References: Yes
---
Services Offered
Dog Walking
- Walk owners dog(s) alone
- Walk dog(s) as a group
Dog Sitting
- Overnight At Sitters House
- Overnight At Owners House
- Holiday Sitting At Sitters House
- Holiday Sitting At Owners House
Dog Daycare
---
About Me/ Company
My name is Penny Green

I live on the Wiltshire, Dorset border with my husband and 8 dogs.

We are both passionate about dogs, so let's start by introducing you to OUR family:
It is LOVE US ~ LOVE OUR DOGS here!

Firstly there is Louis and Bella, Lilly and Dee Dee - They are German Short Haired Pointers, and we hope to breed from this year.

We then have three Cocker Spaniels, Cooper,Gunner and Willow, then we have Nye, a black labrador he is "Perfect Gentleman" He is apparently related to the Queen's dogs, so that must be why!.
They are all Gundogs, and work regularly on local estates picking up.

NOW OUR SERVICES

>A comprehensive DOG SITTING SERVICE, treating your dogs just like one of the family

>Dog Walking Services in Wiltshire and Dorset


>DOG SITTING at your home or ours


>MATERNITY CARE SERVICES FOR BITCHES

>PUPPY CARE SERVICES


>We build BESPOKE KENNELS, GARDEN AND
ANIMAL HOUSING.


WE OFFER VERY REASONABLE RATES - contact us for more information..





Our website
www.goosebarn.org

email goosebarn@gmail.com

tel 07881 814321
---
Previous Experience
We both have a lifetimes experience working with and caring for dogs and animals, from Peacocks to Ferrets, and Lambs to Giant Tortoises

Mick grew up in Berkshire, on a country estate, where he was up at 4 am in the morning to exercise horses and walk half a dozen dogs before he went to school.

He then went on to be a Gamekeeper, to train Gundogs, raise and train Terriers, Pointers, look after dogs of all sorts for friends and family, as well as running a smallholding where he reared Peacocks, and looked after dogs for many local people.

He is a Carpenter and builds bespoke animal housing from kennels to Llama pens, and Poultry huts to chalets for Ferrets!

Penny has had many different breeds of dogs from Dalmatians, Alsatians, Shitzus, Maltese Terriers, Dachshunds, Corgis, and rescued other dogs of uncertain parentage too on many occasions, both large and small.

A Nurse (For humans not Animals!) by profession, she has been passionate about dogs all her life. She finds her medical skills come in useful when there there are any treatments to be administered, Whether it is delivering puppies, or dressing a wound the principles are very similar!

She has experience and qualifications in massage and is currently training to be able to offer holistic treatments and rehabilitation services for dogs following surgery or trauma.
---
Qualifications & Training
QUALIFICATIONS
PENNY - REGISTERED NURSE
Currently writing and researching a book on dog nutrition
---
Relevant Info
WE PRODUCE A NEWSLETTER WITH NEWS AND INFORMATION ON OUR SERVICES AS WELL AS GENERAL INFORMATION ON DOGS, AND CAN PROVIDE YOU WITH INFORMATION SPECIFIC TO A PARTICULAR BREED IF YOU WISH or help you out with other information.


WE ALSO OFFER GIFT SERVICES FOR UNIQUE DOGGIE GIFTS for pet lovers and their dogs

AND HERE IS A LINK FOR THE MOST AMAZING DOG PORTRAITS
(OUR DAUGHTER IN LAW)
www.hannah-griffin.com

please mention US if you order a portrait from Hannah.
---
Other Services
>We also offer rehabilitation for wounded or injured dogs.
> Bereavement services

contact me at www.goosebarn.org

.
---
Our Stats...
In October we've had:
- 97 Jobs Added
- 882 Messages
- 44,511 Visitors
Success Story
"I am overwhelmed by the amount of enquiries I have had since joining dog walking now just a few weeks ago. This site is absolutely brilliant at matching owners and walkers. Thanks to dog walking now, ..."
Special Offers
Check out our special offers for members...
Featured Profile

Online Pet Shop

Fido's Play days is Doggy Day Care in a fabulous rural location. Easy access to Dorking & Horsham. Miles of countryside walks, play paddock &